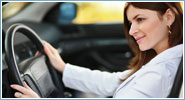 Driver Ed Classes
714-719-6200
driveredclasses@yahoo.com
Testimonials
Thanks, I enjoyed the online drivers ed course , it was easy and I learned a lot.

Ryan B. Escondido, CA
The online driver ed course was so simple, must easier than I thought it would be. I'm glad you had the links I needed for the DMV information and appointment set up for my permit and drive test, I'll definitely refer my friends.

Patrick L. Los Angeles, CA
Great course, I got alot out of it. Had the information I needed to pass my permit test. I passed my test the first time! I'll tell my friends at school to take Driveredclasses.com

Thanks, Karin W. Santa Rosa, CA
Took your online drivers education course last week. My friends told me about it. It was easy to read and wasn't boring. I watched the DMV video's that told me what to expect on my test!

Thank you, Ally C. Mission Viejo, CA